One of the greatest modern-day explorers, Mike Horn, and professional Rally Racer Cyril Despres are determined to change the way motor racing is done on the planet. In 2021, they participated in the Dakar Rally to collect data for a full hydrogen-powered vehicle that they have been developing as part of the GEN Z project.
"Everything that I've done since I've had the relationship with Speedcast has allowed me to communicate…basically, from anywhere, you can still be in contact with people around you." Mike Horn reflects on the power of connectivity for his expeditions as a professional explorer – beyond critical safety and team communication needs, social engagement and real-time content sharing with his followers brings these journeys to life.
Providing the connection for handheld devices such as the Iridium Extreme®, Speedcast is able to keep Mike connected, no matter the remote location or extreme environment – whether he's in the dusty Saudi Arabian desert or the glacier-filled Arctic.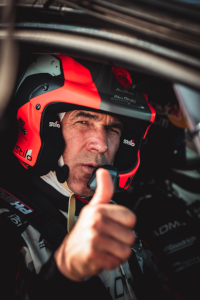 Photo credit: Etienne Claret
Watch our Minute with Mike series following Mike and Cyril's incredible journey across the most remote parts of the Saudi Arabian desert, connected.