You may have noticed an increased buzz surrounding Low Earth Orbit (LEO) satellites coming to market and the potential they bring as they're set to deliver new levels of connectivity to the most remote portions of our globe. Companies including Telesat, SpaceX and OneWeb are in different stages of launch, each with varying performance capabilities and service start dates.
The LEO solutions coming to market will have the ability to provide Gbps links to a site, similar to a home or office connection. And while this is promising, Speedcast has set out to validate if these next-generation constellations will help meet the needs of our customer sets, with operations in remote or harsh locations. Speedcast's mission has always been to evaluate and leverage the best technologies to design comprehensive solutions that deliver the highest performance levels for critical, maximum uptime operations. As our customers' technology partner, our teams have been busy testing the new LEO offerings to determine potential value and applicability based on customer requirements.
In our 'LEO Sat Stats' video series, we discuss various LEO satellite statistics and updates.
LEO Sat Stats Part I
We discuss our latest take on LEO technologies coming to market and what they make possible for end-users.
LEO Sat Stats Part II
We discuss maximizing LEO's potential, noting the various LEO technology offerings coming to market and their potential for specific customer needs.
LEO satellites will change the world of remote connectivity
LEO satellites have been big news for the latest decade or more, with increasing numbers of small satellites being launched into orbit each year. With greater connectivity available, exciting new applications and services are coming into play across the globe.
Delve further into Speedcast's take on LEO innovations coming to market with our Satellite Evolution feature article.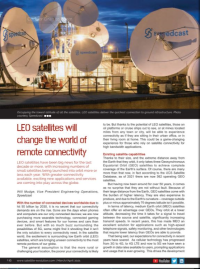 News
Brazilian petroleum company provides representative data to Speedcast teleport for testing over Low ...
Read more
Blog Post
By William Mudge, Director of Satellite Capacity and Technology
Read more
As the Speedcast team continues to conduct LEO technical evaluations, we also assess how these new options best fit the industries and end-users our customers serve, as well as the applications required for operational success.